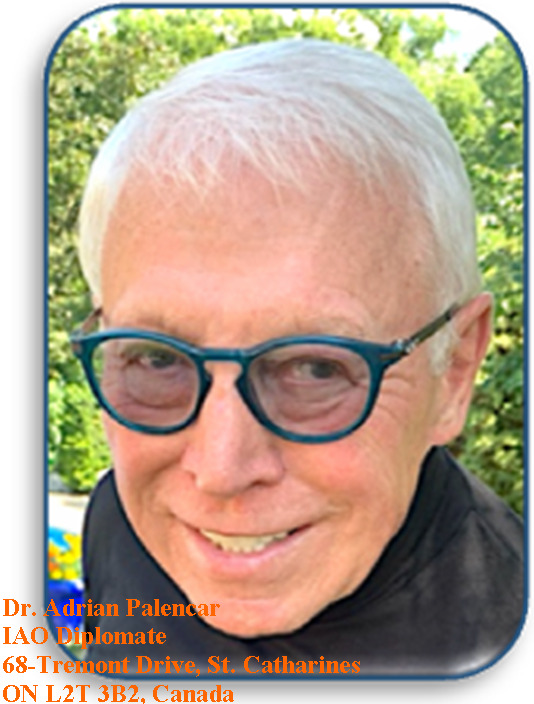 Peripherals in Straight Wire System Back to Basics Part III Composite Lingual Button
By Dr. Adrian J. Palencar, MUDr, MAGD, IBO, FADI, FPFA, FICD
April 2022
Traditional direct bonded Lingual Buttons are made of metal alloys (Nickel Light), a composite or ceramic material with a mesh for bonding. They come in different shapes and forms. The shape of the base may be round or oval, and the form of the base flat, for flat surface, and curved for curved surface. Lingual Buttons serve as a hook for attachment of power units, i.e., Elastics, Elastomeric chain, Closing coil spring, etc.

In-office fabricated Composite Lingual Button
With the advent of ceramic brackets and aligners, there is a greater need for peripherals which match the patient's tooth colour. The author will share with you a very simple way to fabricate the composite lingual button directly in the patient's mouth.
I would like to give credit to Dr. Edmund Liem, Consultant to IJO from Vancouver BC. Dr. Liem presented this technique in one of the IAO Annual Meetings as a Table Clinic and received First place award. Thank you, Dr. Liem. I embraced this technique, and I would like to share it with our readers:
Pumice the teeth where you would like to attach Composite Lingual Button
Etch for 30 seconds (60 seconds if Fluorosis)
Place bonding
Place Elastomeric Ligature Tie (size 150) or Elastomeric Separator
Cure with the light for 5 second to prevent slippage of the Elastomeric Tie
Fill the Elastomeric tie (slightly in excess) with hybrid flowable composite, i.e., Tetric EVOFILL (Ivoclar). Alternatively with a sandwich technique (flowable and hybrid composite)
Cure for 30 seconds and remove the Elastomeric Ligature Tie with the explorer
Polish the surface, if needed
This technique requires minimal expense and minimal time with an excellent result. Also, it allows rapid closure of loose contacts, open contacts small diastemas with Elastomeric Chain. It is paramount to bond the button on the middle of long axis of clinical crown, to prevent undesirable mesio-lingual and disto-lingual moments.


References:
Rondeau Seminars, Level I/ Session 2, 31
Cerum Ortho Organizers Catalogue, 112
Dr. Edmund Liem, personal conversation
HABLA ESPAÑOL
PARLE FRANÇAIS