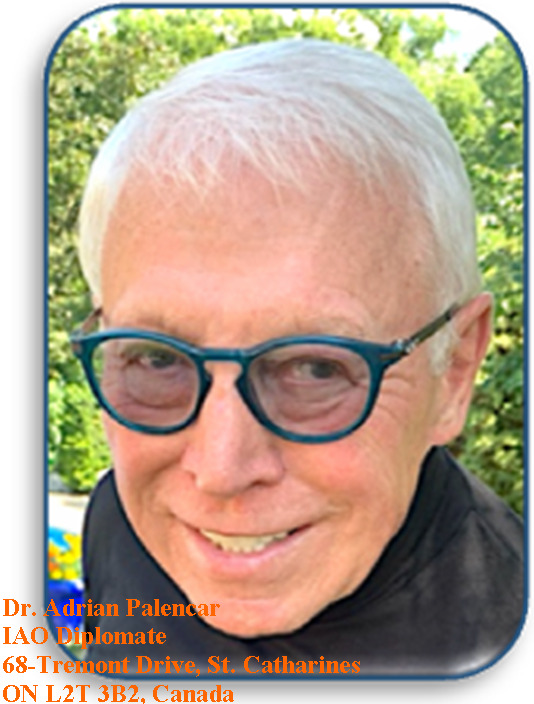 Prefabricated Posted and Keyhole/Mushroom Looped Arch Wires – What is it All About? Part I Posted Arch wire
By Dr. Adrian J. Palencar, MUDr, MAGD, IBO, FADI, FPFA, FICD
October 2021
Orthodontic treatment often resembles the same process as building a house. The changes are dramatic and impressive both at the beginning and at the end, but the detailing is less impressive and seems to take forever. There maybe open contacts, even some unclosed spaces which trouble the Orthodontic Clinician. If there is still an issue with tip, torque and in-out, please refer to previous IAO Monthly Tips (December 2020, January & February 2021)
To close the remaining spaces and then retain the integrity of the arches, many Orthodontic Clinicians place an Elastomeric chain from the first molar to the first molar, alternatively, they lace back (ligature tie) the entire arch. The drawbacks of the Elastomeric chain areas follows:
It creates lingual/palatal moment – de-torques the teeth, since there is approximately 10° play (slop) between a .019x.025 arch wire and a .022x.028 bracket slot. To counter this, it is recommended to place small Rocking Chair (reverse or compensating) Curve into the final rectangular arch wire.
There is rapid degradation of the Elastomeric chain, around 70% after first three weeks (IAO Monthly Tip, June 2020). Therefore, I propose replacement of the Elastomeric chain every two weeks.
It is not the most hygienic setup; Elastomeric chain attracts plaque and harbours small food particles.


I would like to share alternatives, which are more efficient and require fewer visits – prefabricated Posted and Keyhole/Mushroom Looped arch wires.
Posted Arch wire
The author was introduced to this finishing arch wire in early 80's when he initiated his study of orthodontics. Over the next two decades, I had the privilege of studying with Drs. Rondeau, Garcia, Gallagher, Brehm, McDonald, Bond, Champaign and many others. Most of them finished their cases with Posted Arch wire. Posted Arch wire is fabricated from stainless steel. It has extra strong soldered joints and pliable brass posts for ease of adjustment. It is available in both round and rectangular arch wire. Posts are soldered in the embrasure space between laterals and cuspids. Posted Arch wires are available in different sizes. Pletcher Springs (.012x,030 SS) are attached to the mesial hook of the first molar, stretched, and attached to the post. The Pletcher Spring is activated 1.0 mm per month, until all spaces are closed. The author recommends maintaining this position for next 3 months before de-bracketing (cessation of osteogenesis).

Advantages:
Closing spaces
Holding closed spaces without de-torqueing
Arch alignment
Retraction of the anterior segment
Protraction of the posterior segment
May place additional torque or Rocking chair curve
Easy to adjust
Quite hygienic vis-à-vis Elastomeric chain
N.B. The author does not recommend lacing the Pletcher Spring over the arch wire distally
to the molar, but rather place it on the hook. The way it is depicted on drawing, will create undesirable lingual moment on the molar.
References:
Bennett J.C., Mc Laughlin R.R. Orthodontic Treatment Mechanics, and the Preadjusted Appliance; 32 – 34
Cerum OrthoOrganizers Catalogue; 151
HABLA ESPAÑOL
PARLE FRANÇAIS